UNITED KINGDOM
Please continue on this site for delivery to the United Kingdom
Cookies
What is a Cookie?
A cookie is a small text file of letters and numbers that is used to distinguish you from another user and enables swift passage from one page to the next on our website.
Why do we use Cookies?
Cookies help us to provide you with a better customer experience when you browse to our website and allow us to improve and tailor the site for you. For example, we keep track of the domains from which people visit and we also measure visitor activity on the site, but we do so in ways that keep the information anonymous. We use the information that we collect to measure the number of visitors to the different areas of our website, and to help us make the site more useful to you.
Cookie Types
Our website uses two types of cookies. They are as follows:
System Cookies
These enable us to keep track of your movement from one page to another so that you do not get asked for the same information twice. Our shopping basket uses system cookies to remember your selections so that when you proceed to the checkout we know what you have selected rather than your shopping basket being empty.
System cookies we use »
ac_shop:
For storing the users basket and their previously viewed items/wishlist
Expires 1 year from day they go onto the website
Analytic Cookies
These enable us to recognize and count the number of visitors to the website, and to see how you navigate the site. These cookies help us to improve the way our website works, for example by making sure that users can find what they want quickly and easily.
Analytic cookies we use »
peerius:
Displaying relevant products based on user behaviour
Expires after 1 minute
Google Analytics: (Cookies are: __utmx, __utmmx, __utma, __utmb and __utmz)
This is for Google Analytics tracking
Set to expire 2 years into the future
Opt-Out Information
By using and browsing the JD Sports fashion group PLC website, you are approving the use of cookies by JD Sports fashion group PLC in accordance with our cookies policy. If you have an objection to our use of cookies you must or disable the cookies or stop using the site.
To disable cookies your website browser settings needs to be set to reject cookies; this depends on the browser being used. We have provided guidance on how to do this for popular browsers:-
For Microsoft Internet Explorer:
1. Choose the menu "tools" then "Internet Options"
2. Click on the "privacy" tab
3. Select the setting the appropriate setting
For Mozilla firefox:
1. Choose the menu "tools" then "Options"
2. Click on the icon "privacy"
3. Find the menu "cookie" and select the relevant options
For Opera 6.0 and further:
1. Choose the menu Files"> "Preferences"
2. Privacy
For further assistance please refer to help pages within your browser.
Google Analytics
Cookie Types
Reference to http://code.google.com/apis/analytics/docs/concepts/gaConceptsCookies.html
Google Analytics sets the following cookies as described below. A default configuration and use of Google Analytics sets only the first 4 cookies in the table.
 __utma:
This cookie is typically written to the browser upon the first visit to your site from that web browser. If the cookie has been deleted by the browser operator, and the browser subsequently visits your site, a new __utma cookie is written with a different unique ID. This cookie is used to determine unique visitors to your site and it is updated with each page view. Additionally, this cookie is provided with a unique ID that Google Analytics uses to ensure both the validity and accessibility of the cookie as an extra security measure.
Set to expire 2 years from set/update.
__utmb:
This cookie is used to establish and continue a user session with your site. When a user views a page on your site, the Google Analytics code attempts to update this cookie. If it does not find the cookie, a new one is written and a new session is established. Each time a user visits a different page on your site, this cookie is updated to expire in 30 minutes, thus continuing a single session for as long as user activity continues within 30-minute intervals. This cookie expires when a user pauses on a page on your site for longer than 30 minutes. You can modify the default length of a user session with the _setSessionCookieTimeout() method.
Set to expire 30 minutes from set/update.
__utmc:
This cookie is no longer used by the ga.js tracking code to determine session status.
Historically, this cookie operated in conjunction with the __utmb cookie to determine whether or not to establish a new session for the user. For backwards compatibility purposes with sites still using the urchin.js tracking code, this cookie will continue to be written and will expire when the user exits the browser. However, if you are debugging your site tracking and you use the ga.js tracking code, you should not interpret the existence of this cookie in relation to a new or expired session.
No expiration time set.
__utmz:
This cookie stores the type of referral used by the visitor to reach your site, whether via a direct method, a referring link, a website search, or a campaign such as an ad or an email link. It is used to calculate search engine traffic, ad campaigns and page navigation within your own site. The cookie is updated with each page view to your site.
Set to expire 6 months from set/update.
__utmv:
This cookie is not normally present in a default configuration of the tracking code. The __utmv cookie passes the information provided via the _setVar() method, which you use to create a custom user segment. This string is then passed to the Analytics servers in the GIF request URL via the utmcc parameter. This cookie is only written if you have added the _setVar() method for the tracking code on your website page.
Set to expure 2 years from set/update.
__utmx:
This cookie is used by Website Optimizer and only set when the Website Optimizer tracking code is installed and correctly configured for your pages. When the optimizer script executes, this cookie stores the variation this visitor is assigned to for each experiment, so the visitor has a consistent experience on your site. See the Website Optimizer Help Center for more information.
Set to expure 2 years from set/update.
Coremetrics
Cookie Types
In order to facilitate tracking of session and visitor activities, Coremetrics makes use of cookies.
Session Cookie:
The 'Session' cookie exists only for the lifetime of the current browser session. The Session cookie will exist from the point at which the first tag is received from the website until 1) the visitor closes all browser windows for the browser in question or 2) more than 30 minutes pass without receiving a data collection tag from the browser session. One or more 'sessions' may be associated with a 'visitor'.
Visitor Cookie:
The 'Visitor' cookie persists after the visitor closes all browser windows. The 'Visitor' cookie contains a cookie ID referenced by Coremetrics to identify a visitor returning to the site across multiple 'sessions'.
Gift Cards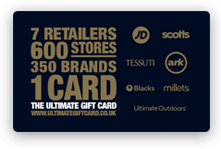 £5 - £300
The ultimate gift card is the only gift card you need. Available in over 500 stores across the country, it's the perfect gift.
Buy gift cards
Our Stores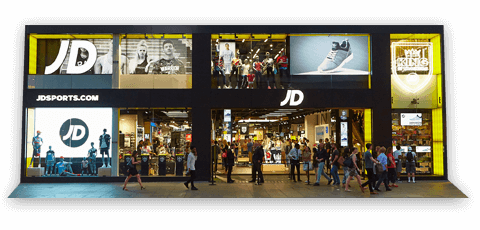 Find your local store, view opening hours and find out where you can get free delivery to collect your order from!
Just enter your postcode below to find your nearest store.
We accept the following payment methods











Visit our corporate website at www.jdplc.com